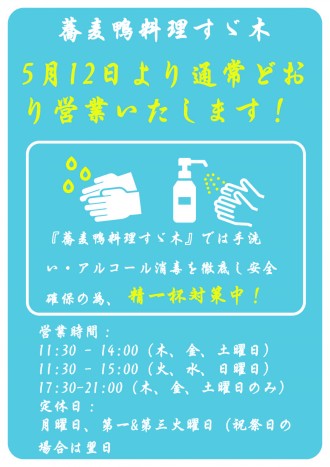 Social distancing and other safety measures, plus reduced hours have been continuing to challenge us.  BUT, today we are delighted to inform you Soba Suzuki will be operating as normal with our usual business hours  from Tuesday 12 May 2020, with the inclusion of some hygienic procedures in accordance with recommendations from the Japanese government bodies and Shima City council.  We really appreciate all your patience, understanding and kind words during this challenging time.
Our Customer and Staff Safety Is Our Highest Priority.
We ensure the recommended hygienic practices are observed with every customer and staff member, priding ourselves on delivering the highest quality service in a safe environment.
We respectfully ask of you…  If you are feeling unwell or have been in contact with someone who has a confirmed case of Coronavirus, please kindly consider coming back when you have fully recovered.
For Japanese Government updates and more information visit  https://www.mhlw.go.jp/english/
We look forward to seeing you on your next visit to our restaurant, Soba Suzuki.  Until then please stay well and safe!