蕎麦鴨料理 すゞ木  A Japanese Restaurant, Soba Suzuki in Ise Shima…
Soba Suzuki is a quintessential Japanese restaurant specializing in hand-made Japanese noodles called 'soba' and traditional Kawachi duck (i.e. Kawachigamo) dishes. The combination of 'soba' and duck dishes is uniquely Japanese and this dish dates back to the time of the Samurai of the Tokugawa Shogun Government during the Edo Era. Following this tradition, many Japanese people eat duck dishes with 'sake' before the 'soba'. Mysterious? Welcome to the magical world of Soba Suzuki! We hope you will enjoy the traditional Japanese culinary experience in this contemporary and relaxing restaurant.
soba
'Soba' is a traditional Japanese noodle made from soba or buckwheat. It contains high levels of minerals, vitamins, fibre, and particularly rutin, which has anti-aging effects and can assist in reducing blood pressure. At Soba Suzuki we only serve soba flour made by us in our kitchen using the traditional method of grinding buckwheat on a millstone. Our soba noodles are handmade daily by our Chef, using traditional Japanese culinary skills and techniques. As a result our soba is always perfectly fresh and full of flavour. All our dishes are freshly cooked to order and most soba choices are offered in both warm and cold throughout the year.
Kawachi Duck
We have sourced the exquisite Kawachi Ducks from Matsubara City, Osaka. They have a perfect balance of texture and flavour as well as the beautiful contradiction of the deep 'umami' and unexpectedly clean finish. Kawachi Duck is mainly served in the best fine dining restaurants in Japan and the only place in Ise Shima region that you can experience this fantastic Kawachi Duck is at Soba Suzuki in Ugata, Shima City.
drink – sake, shochu, wine, etc…
We have selected an excellent range of 'sake', 'shohchu', wine, beer, etc. to match our dishes. Upon request our fully trained staff can help you to match the dishes with sake, shohchu, and/or wine, which is available by the bottle or glass. Traditionally 'sake' is often taken with an appetizer, such as a small dish of grilled duck or a Japanese omelette before moving onto the 'soba' dish.
Kaeshi & Dashi
Dashi is a type of soup stock, which incorporates shaved flakes of premium Japanese bonito and Kaeshi as the main ingredients. Our famous Dashi and Kaeshi recipes are our most closely guarded secret.
opening hours for lunch
Sunday, Tuesday, Wednesday from 11:30am till 3:00pm Thursday, Friday, Saturday from 11:30am till 2:00pm
opening hours for dinner
Dinner: Thursday – Saturday from 5:30pm till 8:00pm
Closing Days
The restaurant will be closed on Monday, 1st and 3rd Tuesday of the month.
At Soba Suzuki, we pride ourselves as "THE Resturant" that is loved by the locals and visitors from Japan and overseas. We use only the best, fresh produce and cook them with precision, honesty and passion to present to our customers. Our traditional techniques allow each ingredient to shine, which results in nourishment of the soul of each customer.
  『蕎麦鴨料理すヾ木』 Soba Suzuki in Ugata, Shima City
Close by is the famous Ise Jingu (Grand Shrine).
Ise Jingu is not the usual Single Shrine but a complex of 125 shrines that include the two main shrines of Geku and Naiku, plus another 14 betsu-gu (auxilary shrines) within the central sanctuaries and another 109 smaller shrines. The famous Amaterasu Ohmikami (the supreme deity in Japanese foundation myths) is venerated at Naiku. We believe that she is like the sun to us, protecting us with her special power of the shrine. Toyouke-no-Ohmikami, who is enshrined at Geku, is a powerful deity with a strong relationship to the locals, particularly as the guardian of food, clothing and shelter. This God was said to be called by Amaterasu Ohmikami to be her chef. Thus, we like all other locals believe that so many Gods are always all around us and looking after our life. In Soba Suzuki's case, we cannot help believing that Amaterasu Ohmikami's cooking expert, Toyouke-no-Ohmikami, is constantly watching what we are doing in the kitchen and showing us to the right way to create excellent dishes and serve them respectfully to our guests. Our restaurant is located at the rear of the picturesque 4th Hole of the prestigious Kashikojima Country Club, so our guests can enjoy the stunning beauty of surroundings while enjoy handmade 'soba' and Kawachi Duck. Being in the middle of Kashikojima Bessouchi (Retreat), Soba Suzuki is sometimes described as "so easy to miss" when you come by car. However, that's the beauty! When you want be away from hustle and bustle of everyday life and relax in a refined yet relaxed space, please think of visiting Soba Suzuki in Ugata, Shima City. We look forward to serving you soon.
The Freshest Produce

Precision

Traditional Cooking Methods & Technique

Honesty

Renowned Customer Services & Business Philosophy

Passion

Great Team Work and restaurant culture
The Menu
Soba Suzuki has developed a relaxed and personal setting, using traditional Japanese cooking techniques and produce of the highest quality to create a unique menu. Hand made 'soba' & Kawachi Duck is our speciality, however, we also serve traditional classic Japanese appetizers such as 'dashimaki', Japanese omelette and 'karasumi', Japanese botargo, dried mullet roe. Our 5 Course Tasting Lunch is updated weekly and is limited to 10 servings per day. It is available everyday including weekends and public holidays.
Soba Suzuki's reputation for top quality food has been achieved by the use of carefully selected ingredients and our classical cooking techniques.
We constantly strive to provide the best food possible by repeating exactly the same processes without exception. This is not only our philosophy but also the backbone of our business.
What's New
News on Soba Suzuki and Ise Shima region as well as intriguing stories about 'soba' and Kawachi Duck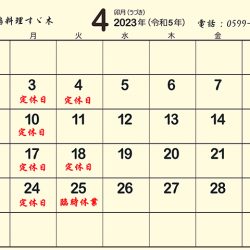 定休日& 臨時休業 in red fonts mean we are closed on the day. We look forward to welcoming you to Soba Suzuki. To […]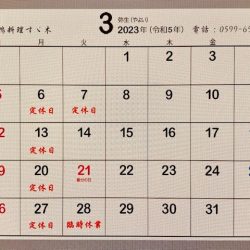 定休日 & 臨時休業 in red fonts mean we are closed on the day. Join us for lunch or dinner with a reservation; cal[…]
前
次ページへ
Reservations
If you wish to make a booking or have any questions, please telephone us in Japanese on +81-(0)599-65-7730.
Opening Times
11:30 – 14:00 (Tues, Wed, Thurs, Fri, Sat, Sun)
17:30 – 21:00 (Fri, Sat)
Restaurant Closed
Mon, 1st & 3rd Tues, the day after Public Holiday